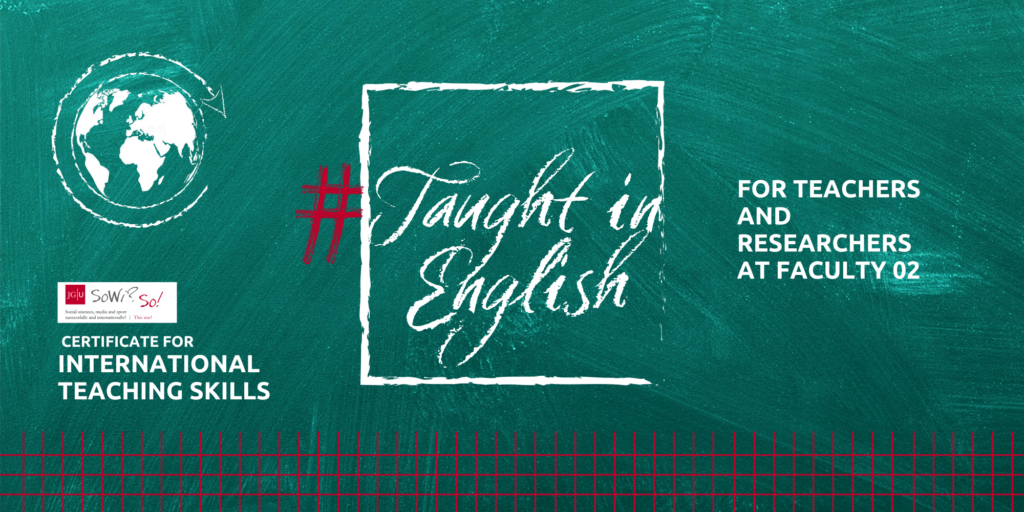 Being able to move confidently on the international stage and to present research results or teaching content competently in English are key skills for all academics: Scientific exchange, networking and cooperation across national borders are of central importance for outstanding research and teaching.
With the Certificate of International Teaching Competence, teachers and young academics in the Faculty 02 of Social Sciences, Media and Sport can have their expertise in international university teaching recognised.
Requirements
In order to receive the certificate, further training in the areas of intercultural communication and English language competence must be demonstrated on the one hand, and diverse experience in international university teaching must be documented on the other. At the end, candidates reflect on their international teaching competence based on their teaching experiences and findings from the further training.
The following must be provided:
1. Continuous learning
English Language Competence (16 units à 45 min)
Intercultural Communication (16 units à 45 min)
2. Practical training
Conception and realization of a course in English at the department 02 (min. 1 SWS)
Lecture in the context of the lecture series CRiSS - Contemporary Research in Social Science (incl. student feedback, 2 units of 45 min) or equivalent lecture
Conducting an English-language course abroad (min. 8 units) or two English-language lectures (15 min each) abroad or at international conferences or a combination of a course abroad of 4 units and a lecture of 15 min each
3. Reflective work
Final written personal reflection (approx. 1000 words)
Applying for the Certificate
In order to receive the certificate, please send all required evidence (confirmations of participation in further education and listing of the required teaching experiences with title, date and place of the events or lectures) together with the final reflection to: sowiso@uni-mainz.de
We will also be happy to advise you personally on suitable continuing education opportunities, funding opportunities, possibilities for extra-curricular teaching in English at the faculty and participation in the CRiSS ring lecture.
Contact person is Dr. Barbara Müller.
Further training and funding opportunities
Continuing education opportunities for individuals at JGU
Training opportunities for groups at JGU
Special courses for certificate candidates can, in principle, be provided by Human Resources Development if there is sufficient demand. Please register your demand with sowiso@uni-mainz.de.
Collegial Coaching (ZQ) – A tailor-made training program for groups, individual attendance is partly possible.
External continuing education programs
The recognition of other externally completed courses is possible in principle.
Funding opportunities for guest lectureships or lectures abroad